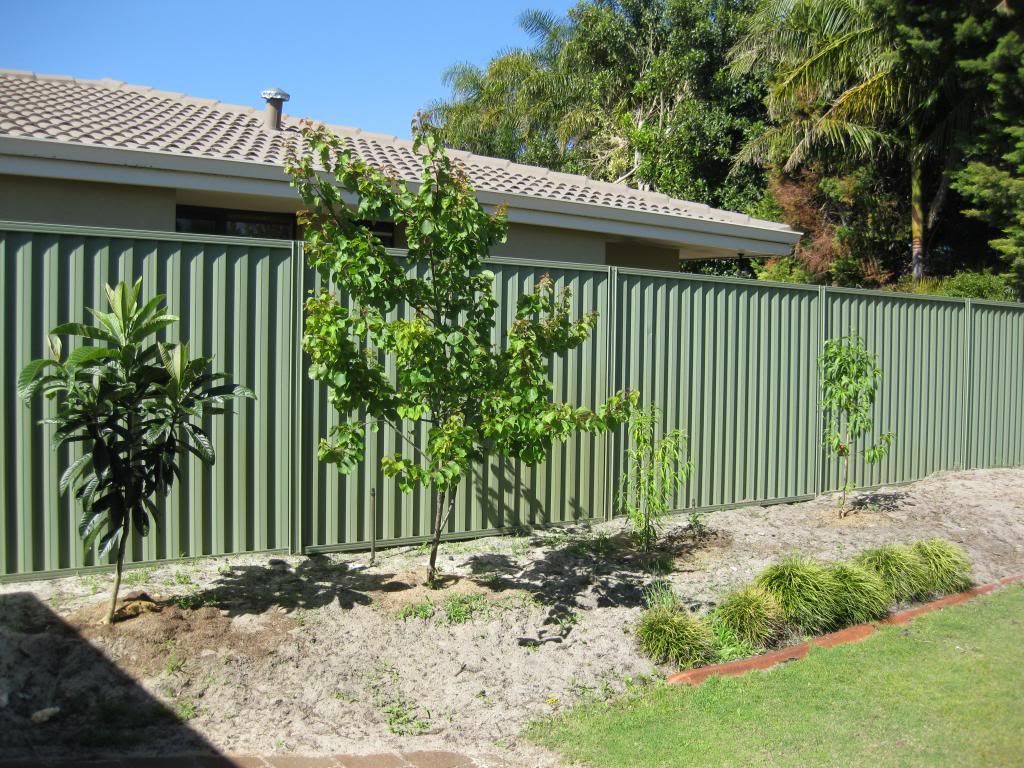 from the left... loquat, apricot, white peach, nectarine
I think that sometimes transformations creep up on you a bit. You think that not much has really happened/been done/changed when in fact quite a bit has (particularly when you look back at photos). The photo above is our backyard side garden now and the one below is the same from when we first moved in a year and a half ago. MR has been super busy with the chainsaw, the axe and the shovel. While it is certainly not finished by any means, all the moaning I do about how not-very-pretty and bare and unfinished our garden looks is a little bit of an exaggeration perhaps. Because our fruit trees are thriving.
So I thought I'd make up some little collages of our fruit trees progression.
Apricot tree - September 2011, November 2011, December 2011, October 2012
The apricot tree has gone mad ever since we planted it. It grows so fast that MR and I often have conversations about how the apricot tree is going when he is away for two weeks. So far is has blossomed twice but not yet had any fruit.. fingers crossed for next year!
Orange tree - September 2011, October 2012


Unfortunately, the orange did not go the same way. We actually planted the orange out the front, in a section of garden that I have not had any luck in keeping anything I plant there alive. We transplanted it this October as it had not only not grown at all, but the leaves were starting to yellow. Since we moved it the leaves have gone green again and new leaves have sprouted as well as about five blossoms have appeared, the first time there has been any signs of blossoms on it. It seems to like its new home much better and on the other side of the fence in the neighbours yard in the same spot they have a mandarin tree so I thought maybe they might like to be friends?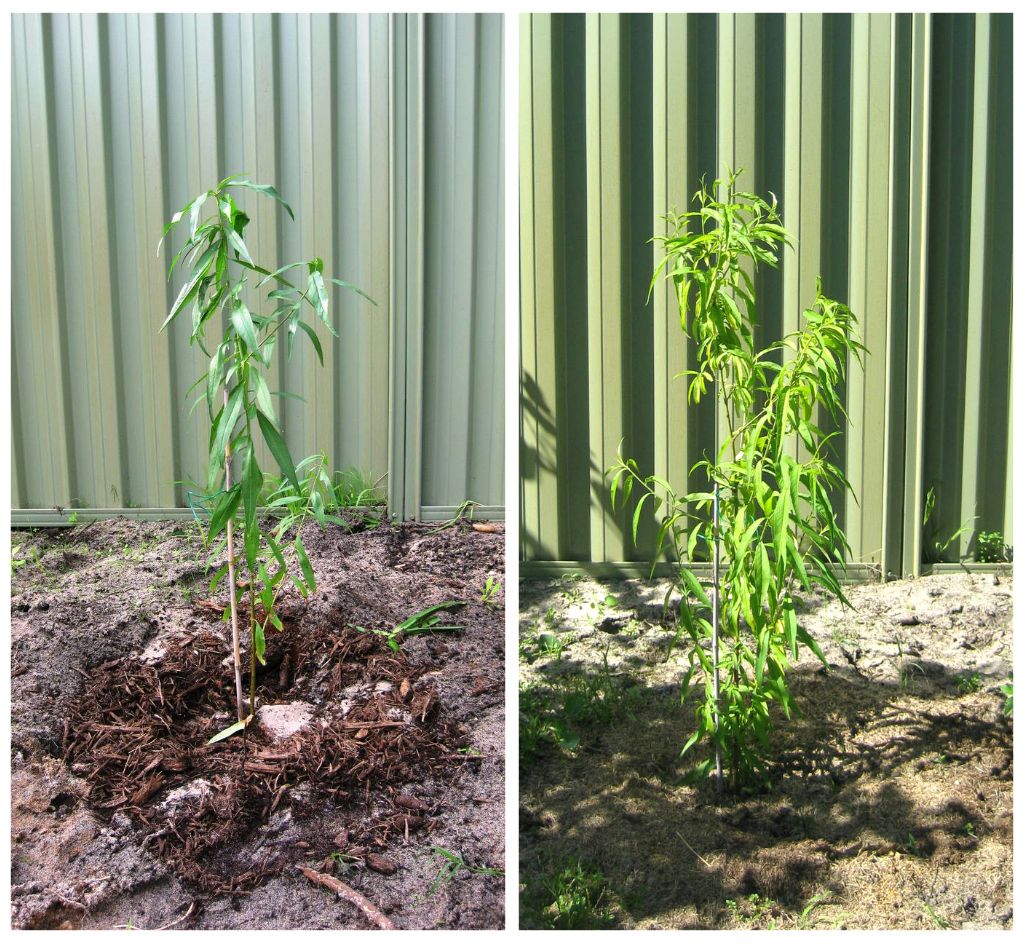 White peach tree - April 2012, October 2012
The white peach tree was a present from a lady I work with, a self sown one from their own peach tree which yields delicious peaches. It's only been in the ground at our place six months now and seems to be leafy all the way up. I'm wondering whether I should remove the leaves from lower down?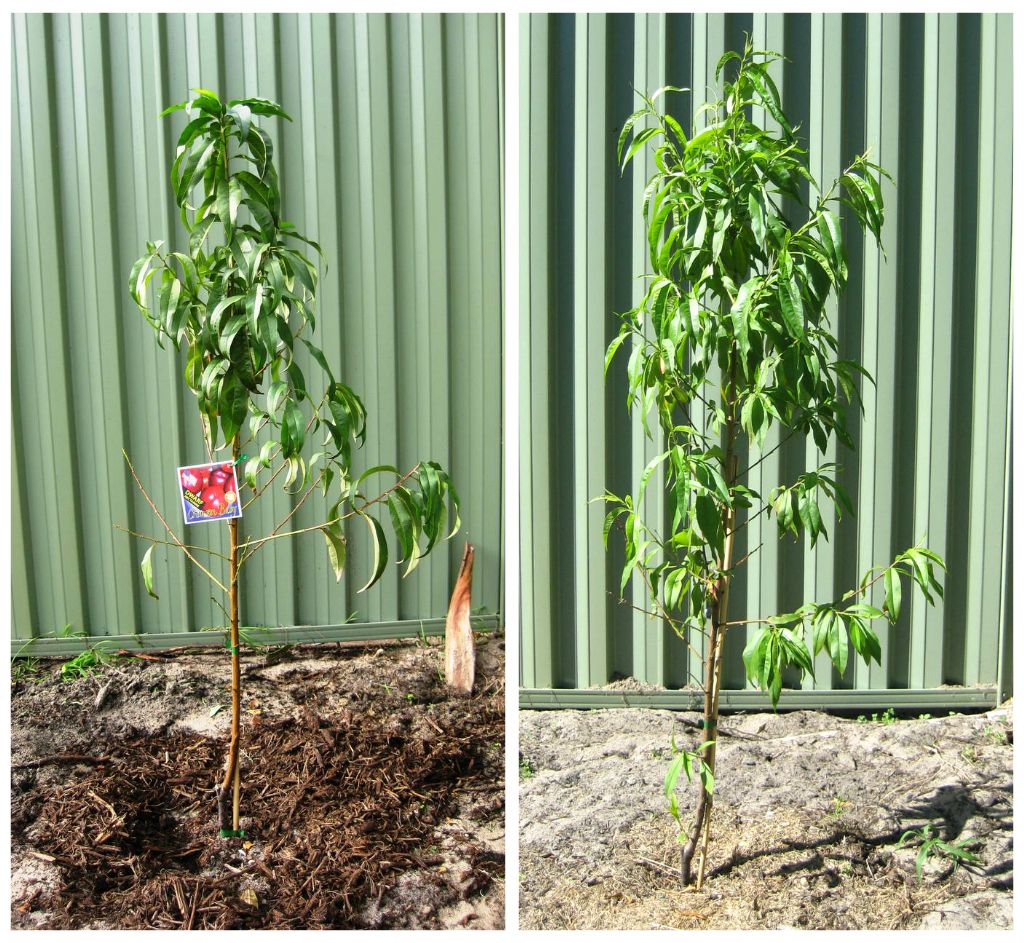 Nectarine - April 2012, October 2012
The nectarine we bought and planted at the same time as the peach. There's been a bit of growth and plumping out so far. This one got a lot of blossoms at the end of Winter/beginning of Spring and actually had about ten little fruit appear which we pulled off so it could grow more. Nice to know it will fruit though!
Unfortunately, I don't really have many good shots of the loquat from when we first planted it to show the growth but while it is going a bit slower it is still coming along well. That one is a cutting from Mum's tree. No sign of any blossoms or fruit on it yet either.

Gooseberry - December 2011, October 2012, the first gooseberry!
Now, I know this isn't a fruit tree but it is the only thing we have gotten any fruit off so far. Three gooseberries in fact! I'm hoping it will thrive and we will get heaps more next season because I do love gooseberries. There are still heaps on the bush but they take
ages
to ripen. As you can see, I picked the first one a little bit early because I just couldn't wait any longer! When I was in junior primary we had a gooseberry bush in our back garden next to the pool and I have fond memories of jumping into the pool and then out and gobbling gooseberries and then back in again. This bush took off when we planted it at the end of last year but the all of a sudden it started to die off. Not sure what I did wrong but thankfully it stopped dying and started to regrow again.
So there you go, some actual garden stuff is happening after all. The next thing to do is get rid of that horrible red curbing edging business that we have happening (you can see it in the top picture) and edge it with some big rocks out the back and limestone blocks out the front. After that we can get all soil level and then put in a proper veggie path and start really getting a bit more of a pretty looking garden happening.
What's been happening in your garden lately?