... the holiday happened. It wasn't a trip to Cairns in the end but a trip down south to Dunsborough. Possibly my favourite holiday destination ever simply due to the world's best hot chocolate shop in town. Would you believe I didn't get a photo of it? Dear me. Seriously though, if you are ever in Dunsborough, Western Australia, you realllllllllllly
really
must go to Hot Chocolatte and have a hot chocolate. In the three days we were there I had three. I would have had four but we didn't get back to town in time on Saturday afternoon before it closed. I think this is possibly the forty fifth time I have mentioned this place on here, it truly is that awesome!
We stayed at our favourite bed and breakfast place,
Newberry Manor
, and did a few new things. There is so much to do in the area and it's nice to try some different stuff out. We went for a visit to a lighthouse in the area and went for a 2km walk out to a whale watching lookout where we didn't see whales but we did see and hear seals. We checked out the local beach and of course I had to have a little paddle, only ankle deep though because my jeans wouldn't roll up any higher! We ate loads of delicious food, had lunch at a brewery in the sunshine (the weather was just divine) visited
Margaret River Wool Company
, tried to go and have a race to the finish attempt at a hedge maze only to find it shut for garden maintenance. Not to worry, we'll be back in the area in November for a wedding so it's on the list for that visit! I managed some car knitting (for some reason I can knit and crochet in the car but I can't read without feeling sick?) And I got a few cute purchases, one of which was this cute little mints tin, just the right size for bobby pins or as Jenni mentioned, stitch markers (when I buy some!)
I need to find my camera charger so I can take photos of my other purchases. For the first time I didn't take my camera down south with me, relying instead on my iphone and instagram. The iphone isn't the best for good quality close ups though. Tomorrow may be charger hunting day.
I've been a little bit quiet on the blog front lately, mainly because stupid blogger told me I couldn't upload any more images without paying for more storage and when I tried to pay for more storage it wouldn't let me. So I signed up with photobucket eventually and now I can put images up again. Posts without images are just not so interesting. Have you encountered this problem? What did you do to get around it? I just got the free photobucket account but I like to upload large images too sometimes and I'm not sure how good a quality they will be. So I'm very interested in hearing your stories!
In other news, it was my birthday yesterday, MR flew out at 5am back to work and I have a cold. Not the best birthday recipe, but I didn't mind too much. Last year I was all aflutter about being OLD (30) but now I am firmly in this mindset ....
I found this quote on
Sally's blog
a while ago and after my completely shitty year of bad health last year I have taken it to heart and hopefully will never again complain about being old. (Although I did moan a bit when I found three grey hairs when doing my hair last night and then when I went hunting I found three more...)
So apart from being a bit sick, I had already organised to go out last night with my sister to the Hilltop Hoods concert which was entirely fantastic, those guys are born performers. Great way to spend a birthday evening.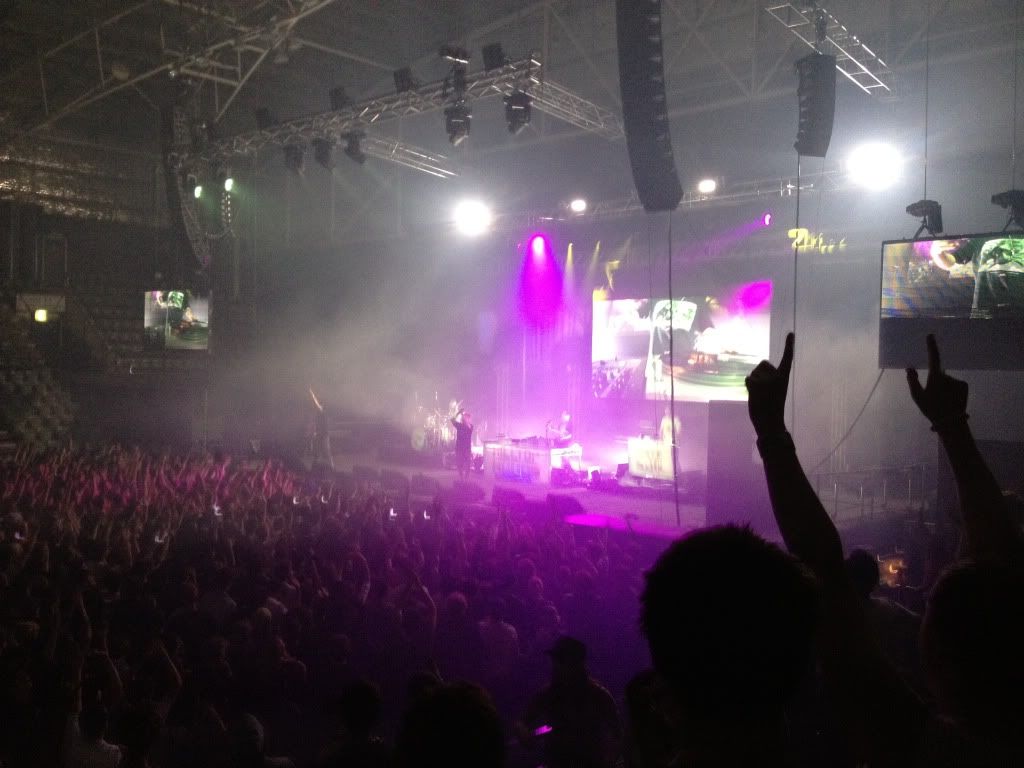 We were nice and close!
Of course, I did pay for it today, waking up feeling all kinds of dreadful and I have since spent the entire day in bed, apart from getting up to get food, my laptop and a good book. The Meow has kept me company and spent the whole day in bed too. We are lazy tarts today!
Not to worry, there's always tomorrow...